>> Made for Chespa: MiniMint packaging
>> Authentic packaging – Symposium 2019
>> Poland, 11.2019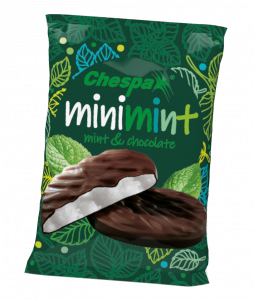 Plates: Chespa Kodak, Chespa DuPont sleevesScreen: 60 lpc
Printed on: Soma Optima
Printing inks: Celio Lam
Celio Lam yellow – 400 lpc / 4,5 cm³/m²
Celio Lam magenta – 400 lpc / 4,5 cm³/m²
Celio Lam PMS green – 280 lpc / 8,0, cm³/m²
Celio Lam cyan – 400 lpc / 4,5 cm³/m²
Celio Lam black – 400 lpc / 4,5 cm³/m²
Celio Lam white – 140 lpc / 12,0 cm³/m²
Substrate: PET 15 / met
minimint mint & chocolate
Ingredients:
sugar, glucose syrup, chocolate 18,0% (sugar, cocoa mass, cocoa butter, vegetable fat (shea),
emulsifier: lecithins (soya), water, maltodex- trin, natural peppermint oil 0,11%. Chocolate: Cocoa solids 43% mini- mum.
Product may contain peanuts, almonds, hazelnuts, sesame seeds, milk, eggs and wheat.
Nutritional value per 100g.
Energy: 1584 kJ/375 kcal; Fat: 6,4g, including saturated fatty acids: 4,0g;
Carbohydrates: 78g, including sugars: 69g; Protein: 0,7g; Salt: 0,01g.
Contains vegetable fats in addition to cocoa butter.
>> CHECK THE MARKING AND AUTHENTICITY PROTECTION SYSTEMS OF PACKAGING
>> in printed picture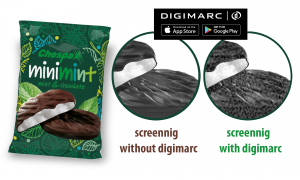 >> in inks and OPV